HELLO & WELCOME
TO GENUSSSCHMIED
IN ST. WOLFGANG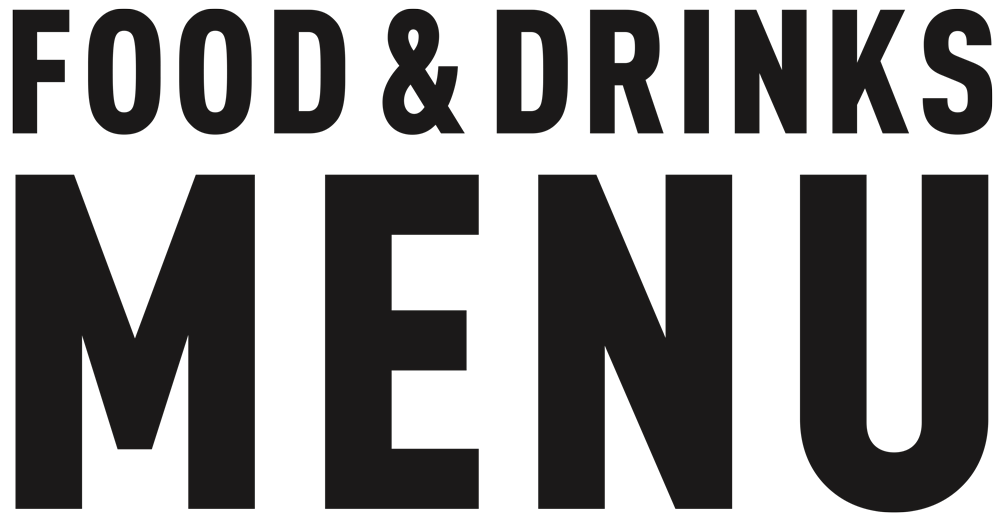 Soft drinks
Gasteiner  sparkling/still
0,33l
0,75l
€3.60
€6.90

Soda water
0,3l
0,5l
€3.-
€4.-
Soda water with lemon
0,3l
0,5l
€3.50
€4.50
Soda water with elderflower
0,3l
0,5l
€3.50
€4.50
Soda water with raspberry
0,3l
0,5l
€3.50
€4.50
Tap water with lemon
0,3l
0,5l
€2.50
€3.50
Tap water with elderflower
0,3l
0,5l
€2.50
€3.50
Tap water with raspberry 
0,3l
0,5l
€2.50
€3.50
Sodas
Coca Cola

0,3l
0,5l
€3.80
€4.80

Coca Cola Zero

0,3l
€3.80

Almdudler
0,3l
0,5l
€3.80
€4.80
Red Bull


0,25l

€4.50

Organics Tonic Water

0,25l

€4.40

Organics Bitter Lemon

0,25l

€4.40

Organics Black Orange

0,25l

€4.40

Organics Ginger Ale

0,25l

€4.40
Organic Ginger Beer

0,25l

€4.40

Organics Purple Berry

0,25l

€4.40
Pfanner fruit juices

Apple | Currant | Orange
pure

Leitungswasser



0,3l
0,5l
€4.20
€5.20

with soda

0,3l
0,5l
€3.80
€4.80
with tap water
0,3l
0,5l
€3.60
€4.60
Apricot | Multivitamin | Mango
pure

0,2l
€3.90

with soda

0,3l
0,5l
€4.-
€4.80
with tap water
0,3l
0,5l
€3.90
€4.60
Aperitif & Bitters
| | | |
| --- | --- | --- |
| Glass Prosecco | 0,1l | €4.90 |
| Aperol Spritz (with Prosecco) | 0,25l | €7.50 |
| Rosato Mio | 0,25l | €7.50 |
| Hugo | 0,25l | €7.50 |
| Lillet Wildberry | 0,25l | €7.50 |
| Martini Bianco | 5cl | €5.90 |
| Martini Rosso | 5cl | €5.90 |
| Averna Lemon | | €4.90 |
Beer
Eggenberger Hopfenkönig

0,2l
0,3l
0,5l
€2.90
€3.90
€4.90
Tegernseer Hell

0,3l
0,5l
€3.90
€4.90
Schmied Bräu Zwickl

0,3l
0,5l
€3.90
€4.90
König Ludwig wheat beer

0,3l
0,5l
€3.90
€4.90
Almdudler Radler

0,3l
0,5l
€3.90
€4.90
Eggenberger Freibier

non-alcoholic



0,5l
€5.20
Erdinger wheat beer

non-alcoholic



0,5l
€5.20
Open Wine & Bottles
Glass of wine
Spritzer white

0,25l
0,5l
€3.90
€7.80


Spritzer summer

(more soda)
0,25l
0,5l
€3.60
€5.40
Spritzer sweet (white wine mixed with lemonade)
0,25l
€4.20
House wine white
1/8
€3.60

 ⅛ white wine

Grüner Veltliner Lössmann
Kolkmann

1/8l
€5.90

Chardonnay Mitterpoint
Hebenstreit

1/8l
€5.70

Riesling Tonstein
Wolfgang Seher

1/8l
€5.90
Stratos Bio
Straka
1/8l
€5.90
 ⅛ red wine

Zweigelt Goldberg
Achs

1/8l
€6.10

Roter Oktober
Wolfgang Seher

1/8l
€6.10

Rioja
Crianza
1/8l
€6.50
 ⅛ rosé wine

Passe Partout
Kellerkünstler
1/8l
€5.70

Bottle of white wine

Grüner Veltliner Lössmann
Kolkmann

0,75l
€30.-

Chardonnay Mitterpoint
2021 Hebenstreit

0,75l
€29.-

Riesling Tonstein
2021 Wolfgang Seher

0,75l
€30.-
Stratos Bio
Straka

0,75l
€31.-
Lugano DOC
2021 Otella

0,75l
€32.-
Verdejo
2021 Bodega Menade

0,75l
€32.-
Sangarido Godello
Bierzo

0,75l
€32.-
Sauvignon Blanc Südsteiermark DAC
2021 Polz

0,75l
€34.-
Yellow Muscatel
2021 Kodolitsch

0,75l
€34.-
Gemischter Satz Breitenpuechtorff
Groiss

0,75l
€31.-
Aus den Dörfern
Rosi Schuster
0,75l
€34.-
Bottle of red wine

Zweigelt Goldberg
2021 Achs
0,75l
€31.-

Roter Oktober
2017 Wolfgang Seher
0,75l
€31.-

Kumarod
2018 Schwarz
0,75l
€32.-
Crianza Rioja DOCa
2018 Sierra Cantabria
0,75l
€33.-
Almansa Albarah
0,75l
€35.-
Albahra
Bodega Envinate
0,75l
€36.-
Rosé and sparkling wines
Juve & Camps Cava

0,75l
€31.-

Juve Camps Cava Rosé

0,75l
€35.-

Passe Partout
Kellerkünstler
0,75l
€32.-
Cocktails, Long drinks & Spirits
Cocktails

Cuba Libre
Havana, lime, cane sugar, cola, ice

€8.60

Caipirinha
Cachaca, lime, cane sugar, crushed ice
€8.60

Mojito
Havana, lime, cane sugar, crushed ice cream, soda

€9.70

Moscow Mule
Vodka, ginger beer, cucumber, lime, ice

€9.90

Daiquiri
Havana, lime juice, sugar syrup

€8.50

Tequila Sunrise
Tequila, orange juice, grenadine, ice
€11.80

Old Fashioned
double matured bourbon, Angostura Bitter
€8.90
Negroni
Campari, Gin, Red Vermouth
€7.90
Amaretto Sour
Amaretto, egg white, Angostura Bitter, lemon juice, sugar syrup
€10.50
Whisky Sour
Scotch whiskey, egg white, Angostura Bitter, lemon juice, sugar syrup

€10.50
Adios Motherf****r
Vodka, gin, tequila, Havana, lemon juice, lemonade, ice

€18.90
White Russian
Vodka, Coffee Liqueur, Cream

€8.80
Espresso Martini
Vodka, Coffee Liqueur, Espresso
€10.50
Godfather
Whiskey, Amaretto
€8.90
 Long drinks

Vodka Wellness
Vodka, soda, lemon juice
€7.90

Vodka Bitter Lemon
Orange, mango, apple, cranberry
€8.50

Vodka Fruit
Vodka with orange, apple, mango or multivitamin
€7.90

Jameson Lime
Jameson, Almdudler, lime
€7.90
Kainer Schnapps

| | | |
| --- | --- | --- |
| Apricot | 2cl | €3.90 |
| Stone pine | 2cl | €3.90 |
| Williams | 2cl | €3.90 |
| Hazelnut | 2cl | €3.90 |
Primushäusl Schnapps

Nut Kernel (

liqueur)



2cl
€6.20


Black Currant

(

liqueur)



2cl
€6.50

Salzburg Pear

2cl
€6.50
Liqueur
Spirits (on the rocks)
| | | |
| --- | --- | --- |
| Pernod | 2cl | €4.90 |
| Jaegermeister | 2cl | €4.00 |
| Ramazzotti | 2cl | €4.90 |
| Averna | 2cl | €4.90 |
| Amaretto | 2cl | €4.90 |
| Baileys | 4cl | €5.90 |
Tequila

| | | |
| --- | --- | --- |
| Sierra Tequila Gold | 2cl | €4.00 |
| Sierra Tequila Blanco | 2cl | €4.00 |
| Cuervo Especial Silver | 2cl | €5.00 |
| Cuervo Especial Gold | 2cl | €5.00 |
Gin
| | | |
| --- | --- | --- |
| Hendricks Gin | 4cl | €7.90 |
| Monkey 47 Gin | 4cl | €9.90 |
| Bombay Gin | 4cl | €5.60 |
Rum
| | | |
| --- | --- | --- |
| Havanna 3Y | 4cl | €4.40 |
| Myers Rum | 4cl | €5.20 |
| Havanna 7Y | 4cl | €7.40 |
| Appelton Estate 12Y | 4cl | €9.70 |
| Diplomatico | 4cl | €11.50 |
Whiskey
| | | |
| --- | --- | --- |
| Jameson | 4cl | €4.40 |
| Jack Daniel's | 4cl | €5.60 |
| Makers Mark | 4cl | €7.50 |
| Chivas Regal XV | 4c | €11.50 |
Vodka
| | | |
| --- | --- | --- |
| Absolut Vodka | 4cl | €4.40 |
| Absolut Sensation | 4cl | €5.50 |
Sherry
Coffee, Tea & Hot Chocolate
Coffee

| | |
| --- | --- |
| Espresso | €2.90 |
| Double Espresso | €4.20 |
| Small brown | €3.20 |
| Big brown | €4.50 |
| Americano | €3.60 |
| Cappuccino | €3.90 |
| Espresso Macchiato | €3.20 |
| Latte Macchiato | €4.50 |
| Hot Chocolate | €4.90 |
| Hot Chocolate with rum | €6.20 |
 Tea

Black Tea
Chamomile
Peppermint
Fruit
Herbs
€3.20

Tea with rum
€4.50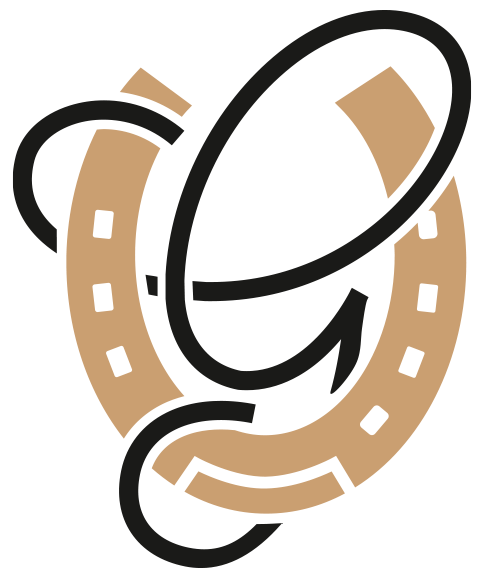 Variation of dips (vegan available)
Mojo verde, aioli, mojo rojo, rustic bread
(A, C, L)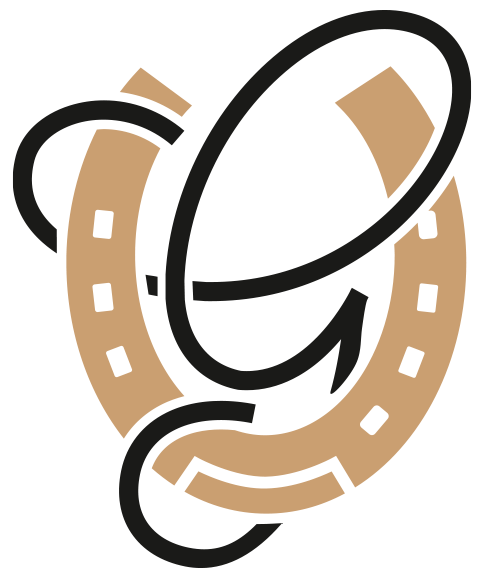 Variation of Spanish Tapas (for 2 people)
Serrano ham, manchego cheese, padron peppers, spanish potato omelette, aioli, olives, capers, and rustic bread
(A, C, G, L)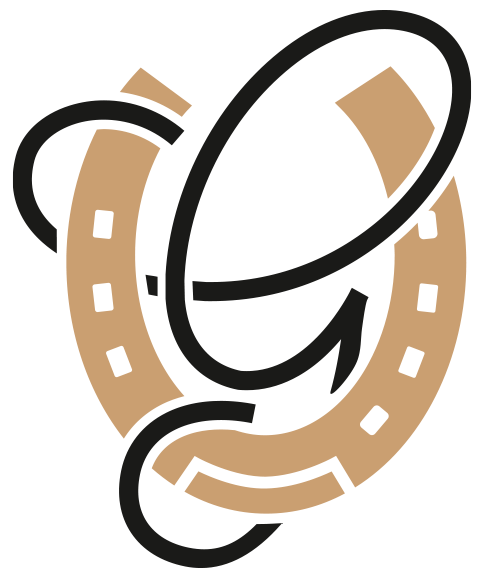 Pimientos de Padrón (vegan)
Small peppers fried in olive oil with sea salt (vegan)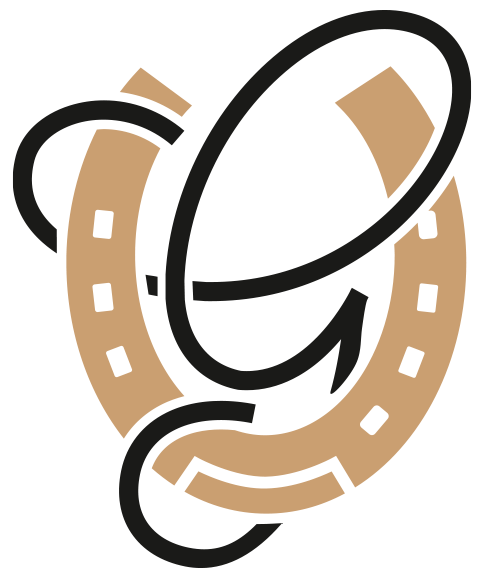 Gambas al Ajillo
Shrimps fried in olive oil with garlic, parsley. Served with rustic bread
(A, B, O)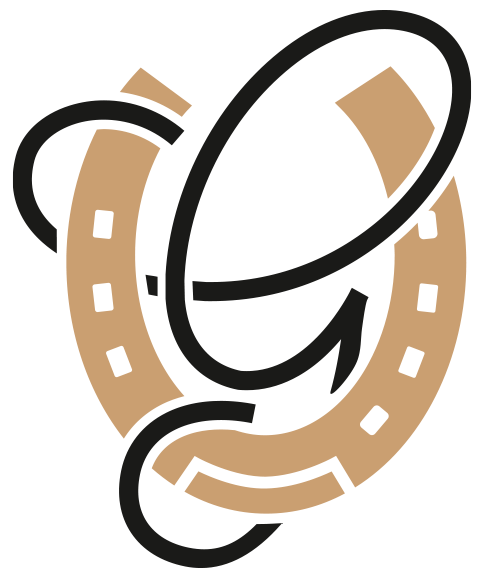 Beef Tatare
100 g | 180 g
With butter, Ruccola, Dijon mustard, mayonnaise, and rustic bread
(A, C, G, M)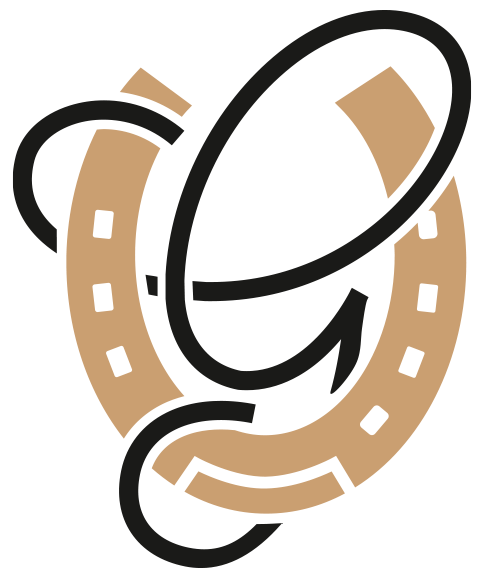 Selfmade Chorizo
Roasted spanish spicy pepper sausage with rustic bread
(A, L, M)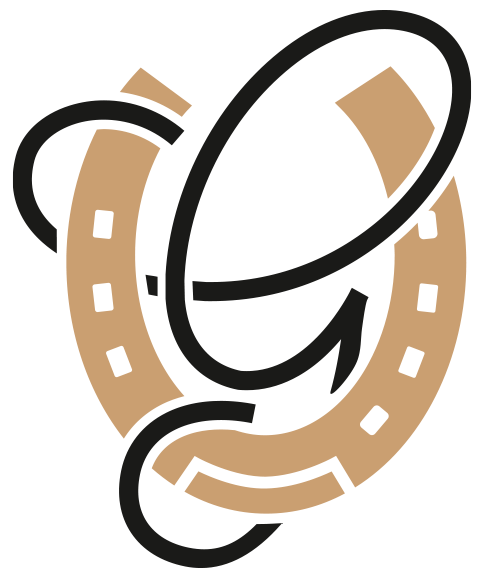 Patatas Bravas (vegan)
With mojo rojo and guacamole
(A, O)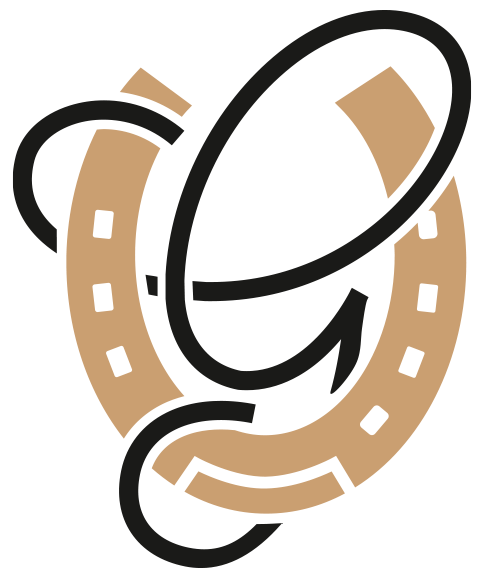 Amazing Fries (vegan possible)
Potato corn fries, jalapeños and baked bacon gratinated with cheddar | Vegan with dried tomatoes
(F, G, L)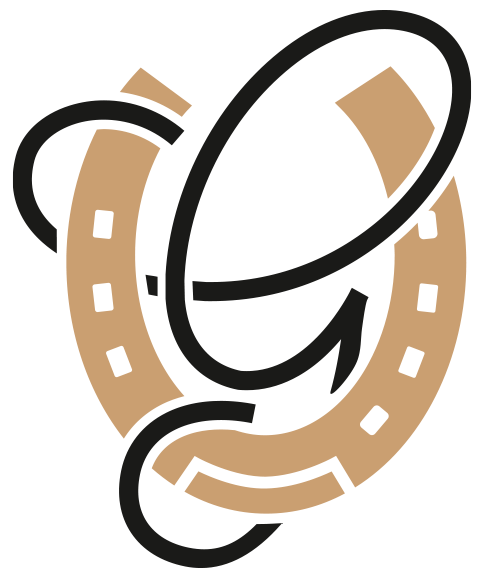 "Saugeile" Fries
Potato-corn fries gratinated with mountain & raclette cheese, pulled pork roast, horseradish & chives
(G, L, M)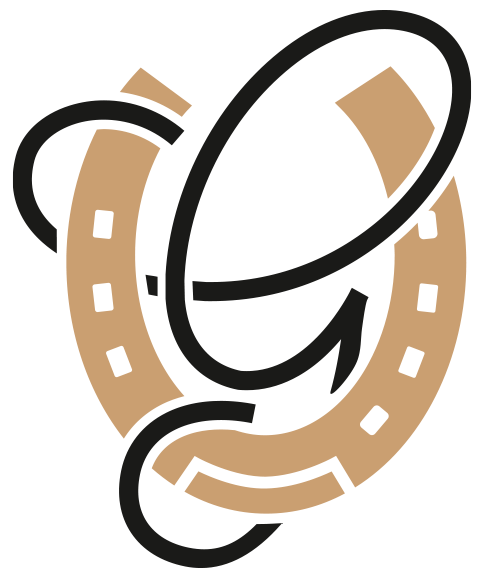 "Wüdn" Fries
Potato-corn fries baked with raclette cheese, venison sausage, red cabbage, cranberry mustard, and chives
(G, L, M, O)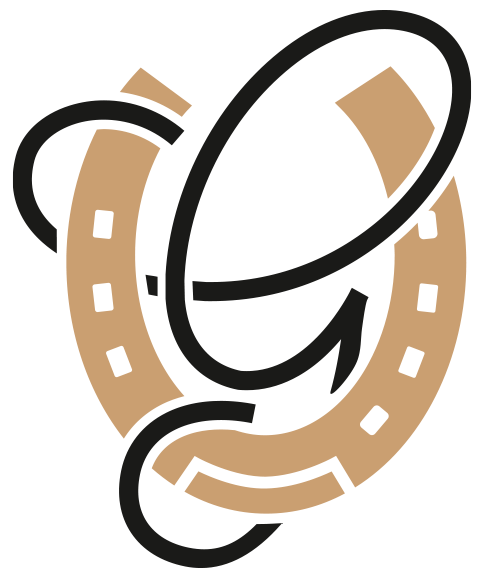 Spanish tomato soup (vegan)
Smoky tomato soup with borlotti beans and herb-garlic tramezzini
(A, F, H, L, O)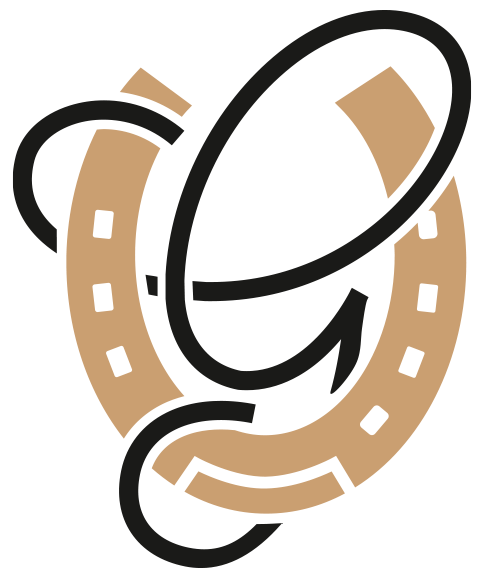 Small or large mixed salad (vegan)
Crisp mixed greens, cherry tomatoes, radishes, bell peppers | Toppings optional
(L, M, O)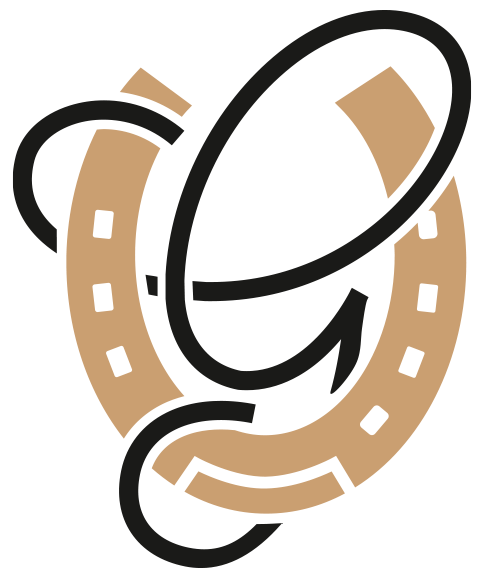 Ceasar Salad (vegan possible)
Romaine lettuce, Parmesan cheese, cherry tomatoes, & white bread croutons | Toppings optional
(G, L, M, O)
Pan-fried corn-fed chicken breast (G)
Pan-fried strips of beef (G)
Pan-fried rainbow trout (D)
Grilled halloumi (vegetarian) (G)
Pan-fried tofu (vegan) (F)
Pan-fried vegan chicken breast (F)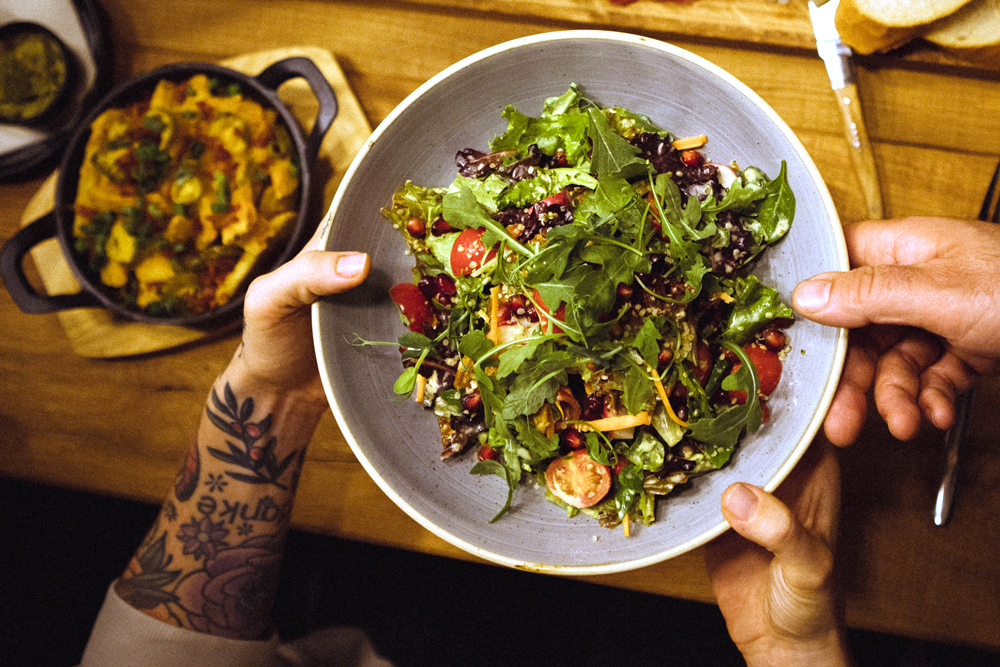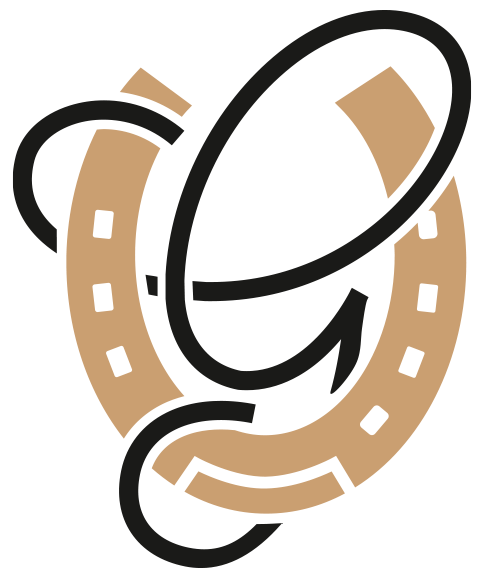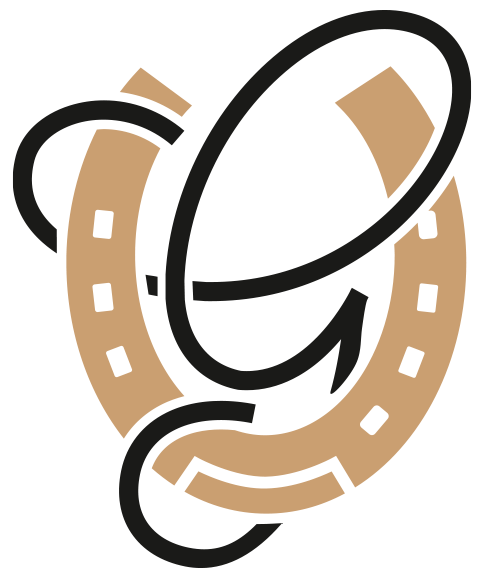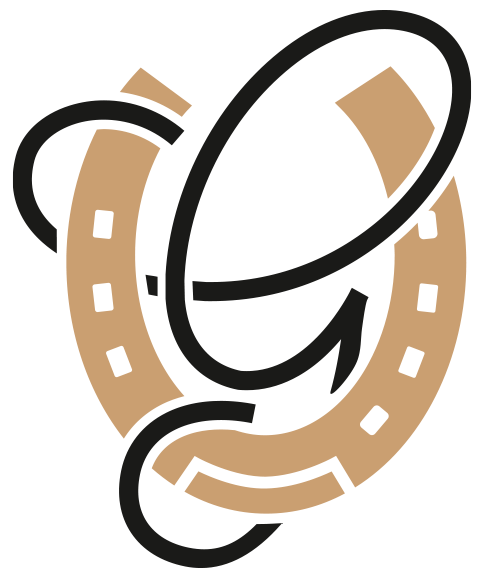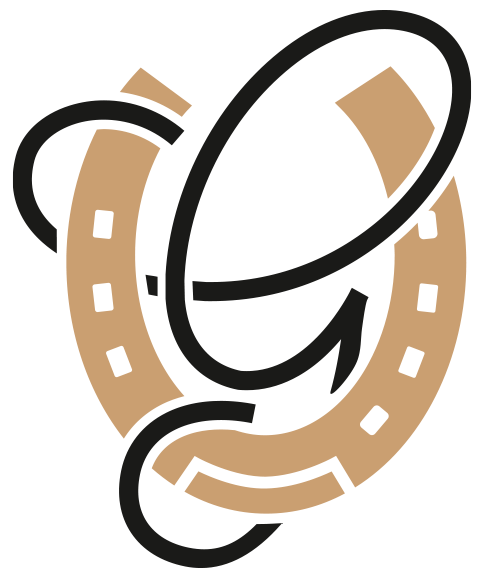 Surf and Turf
2x 150g fillet steak & 2x lobster tail
(B, G, L)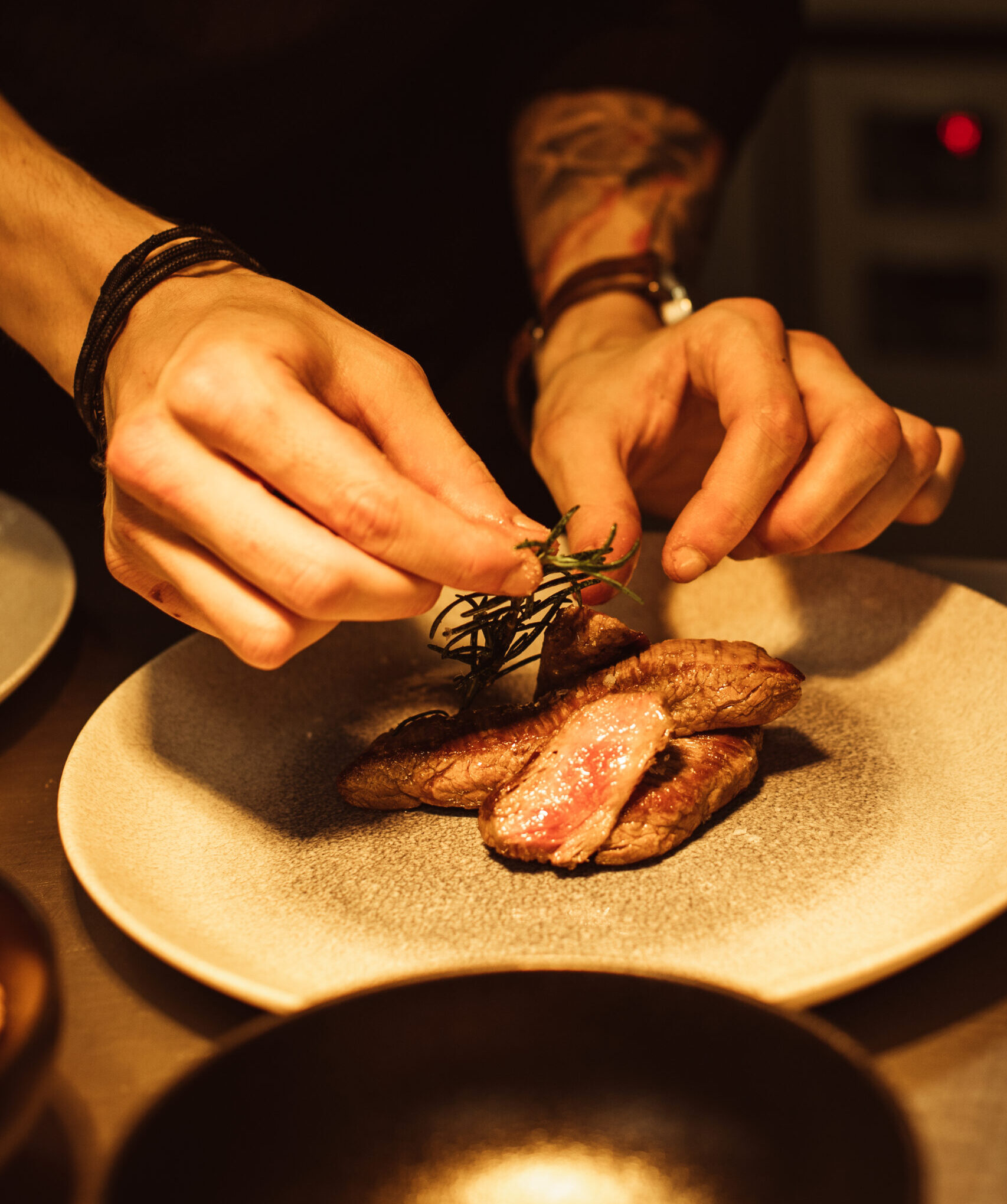 Creamy pepper sauce (G, L, M, O)
Smoking Jack Daniel's sauce (G, L, M, O)
Homemade Tacos & Quesadillas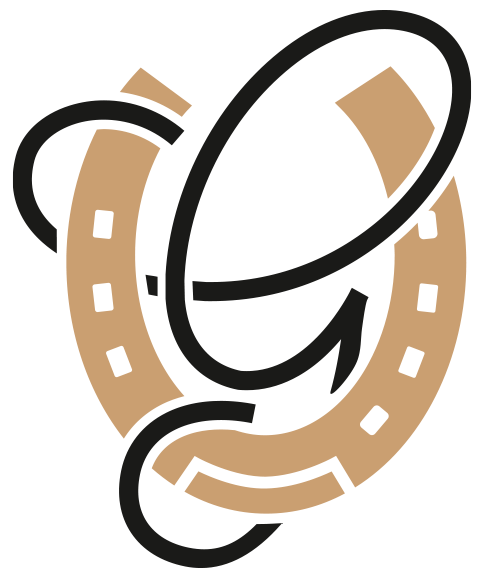 Fish taco
Fish baked in tempura batter on creamy cucumbers & kimchi mayo. (Fish varies – please ask the service staff for details)
(A, C, D, G, L, M)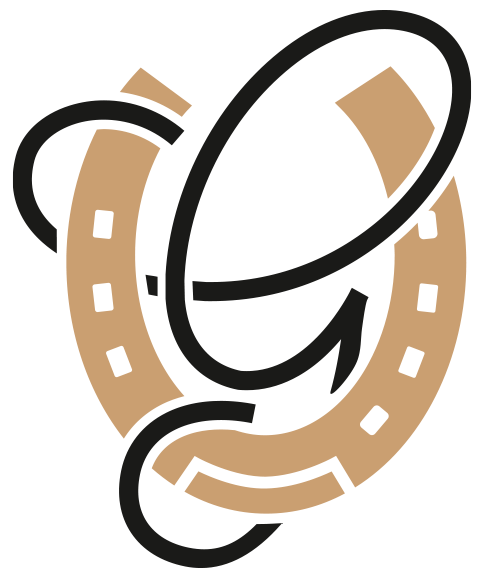 "Schweinebacker`l" Taco
Braised pork cheeks in wheat beer sauce with radishes and apple horseradish
(A, L, M)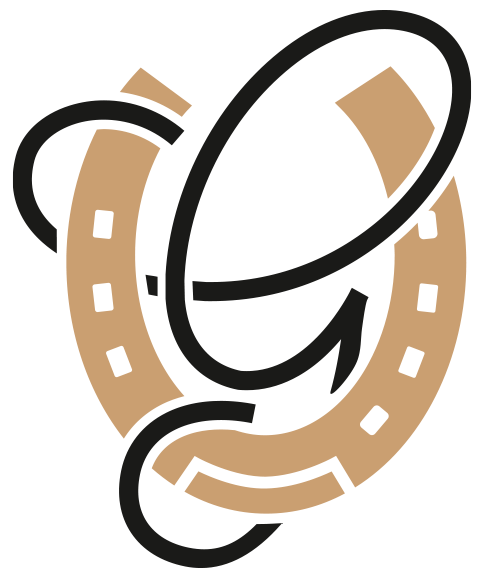 Black bean taco with peach salsa (vegan)
Black bean filling with red onions and peach salsa
(A, F, L, O)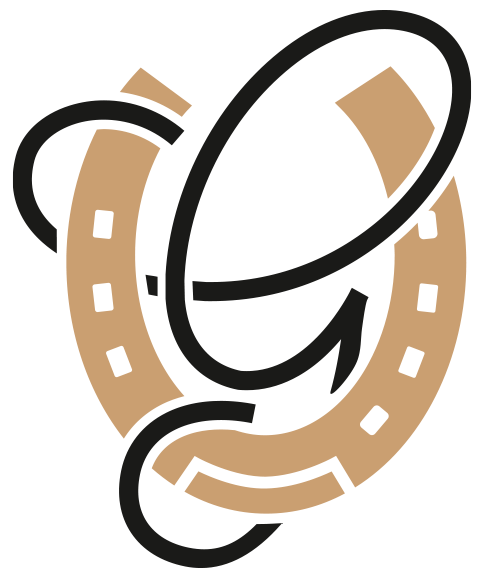 Quesadilla
Homemade tortilla filled with chili con carne, cheddar, and mozzarella. Served with lime cream and green mojo sauce
(A, F, G, L, O)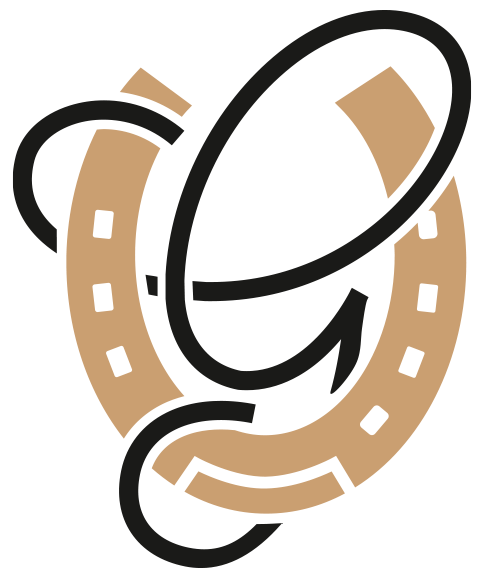 Vegi Quesadilla (vegan or vegetarian)
Homemade tortilla filled with vegan filling made from sunflower seeds, beans, red onions, and vegan cheese. Served with green mojo sauce
(A, F, G, L, O)
We prepare our taco and quesadilla dough fresh every day.
Can't decide which taco to order? We recommend creating a duo or trio from our taco selection.
#tacolove (not only on Tuesdays)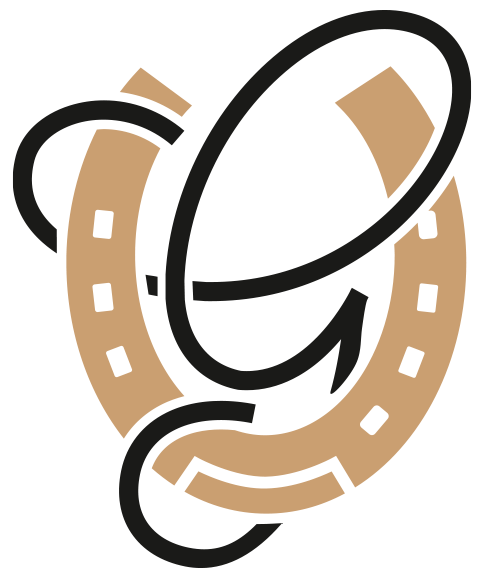 Iberian pig
Roasted Iberian pork chop served on hazelnut creamy polenta, sautéed mushrooms, and olive jus
(G, H, L, M, O)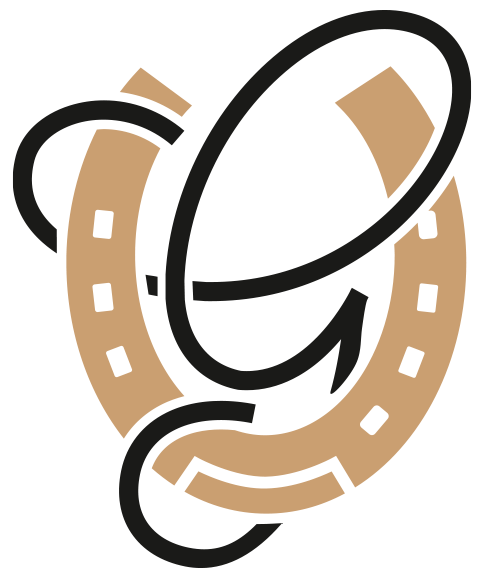 Nuggets with fries (vegan possible)
Breaded nuggets of corn chicken breast with french fries (A, C)
Vegan nuggets made from peas & soy protein (A, F)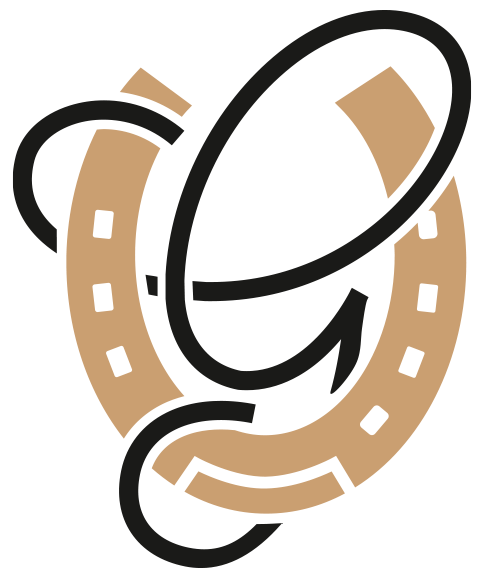 Churros
Spanish sugar pastries with dark and white chocolate sauce
(A,C,G)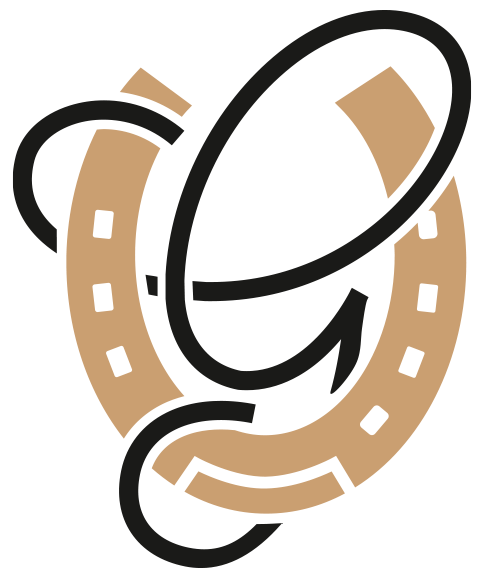 Nougat Empanada (vegan)
Chocolate pastry filled with nougat, served on berry compote and vanilla-lemon cream
(A, F, O)
Allergen labelling according to Codex recommendation
A – cereals containing gluten
B – crustaceans
C – egg
D – fish
E – peanut
F – soy
G – milk or lactose
H – nuts
L – celery
M – mustard
N – sesame
O – sulphites
P – lupins
R – molluscs
THE GENUSSSCHMIED OPENING HOURS
MON | TUE | WED | THU | FRI | SAT
2.00 pm – 12.00 am
Warm meals | 2.00 – 5.00 pm & 6.00 – 11.00 pm
SUN
Rest day
REQUEST A RESERVATION ONLINE
Your request will be processed promptly!
DROP BY


Markt 30, 5360 St. Wolfgang

CALL US
+43 (0)664 51 11 167
OR VIA CONTACT FORM